The Washboard Union     |  November 13, 2020 at 6:30pm and 9:00pm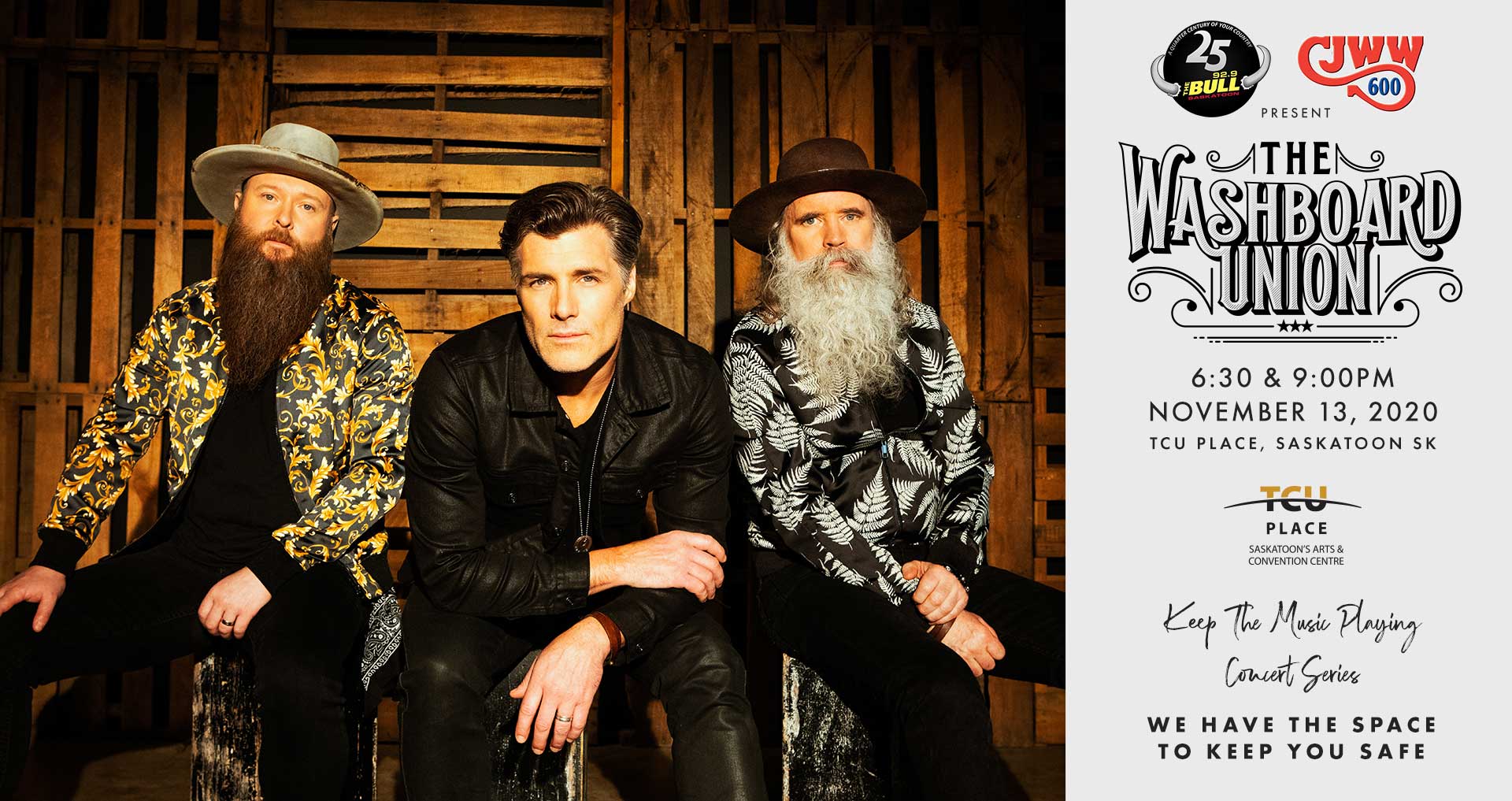 Safety is Our Top Priority
Visit our Coronavirus Prevention page for more information on the steps we're taking to keep you safe. Read our Theatre Safety Guide for a short explanation of how socially-distanced event attendance works.
TCU Place is excited to announce an exclusive new concert featuring Country music superstars The Washboard Union. Fewer than 150 seats out of 2074 in our Sid Buckwold Theatre will be sold to ensure all concertgoers are seated a safe distance apart, and we've implemented enhanced cleaning protocols to keep attendees safe and comfortable.
30X Award winners, JUNO Breakthrough Group of the Year and three-time reigning CCMA Group/Duo of the Year, The Washboard Union have defied classification and continue to be one of the most talked about bands in Country music. Led by step-brothers Aaron Grain & Chris Duncombe and their best friend David John Roberts, The Washboard Union share an innate love for the art of songwriting and storytelling that has resonated with audiences from North America to Europe. Certified Gold in Canada, the band has several Top 10 hits and numerous top 20 hits in Canada, and was the first country band to ever win the JUNO Award for Breakthrough Group of the Year; a multi-genre category. One of the busiest bands touring in Canada, The Washboard Union have played nearly every stage between Vancouver Island and Newfoundland, and have shared the stage with Old Dominion, Keith Urban, Reba McEntire, Dwight Yoakam, Jason Aldean, Zac Brown Band, Thomas Rhett, Lonestar, and more.
This is a band that cares deeply about their fans, and anyone who has seen them live knows The Washboard Union engage with their audience at every opportunity. Known for their genuine nature, and sense of caring and responsibility, The Washboard Union have also donated their music and merchandise to countless other charitable events including Basic for Babies (BC), Gone Country Cancer Fundraiser (BC), Love of Children Charity Golf Classic (Alberta), Listowel Arena Fundraiser (Ontario), and more, proving their passion extends from the joy in their hearts into everything they do. To illustrate their impact on audiences, in 2018 the small town of La Glace, AB celebrated "Washboard Union Day", with the school children dressing up like the band and performing their music, as the band performed a fundraising concert for the town's new arena.