Boney M 2022   |   7:30 PM Saturday December 10 and 2:00pm Sunday December 11, 2022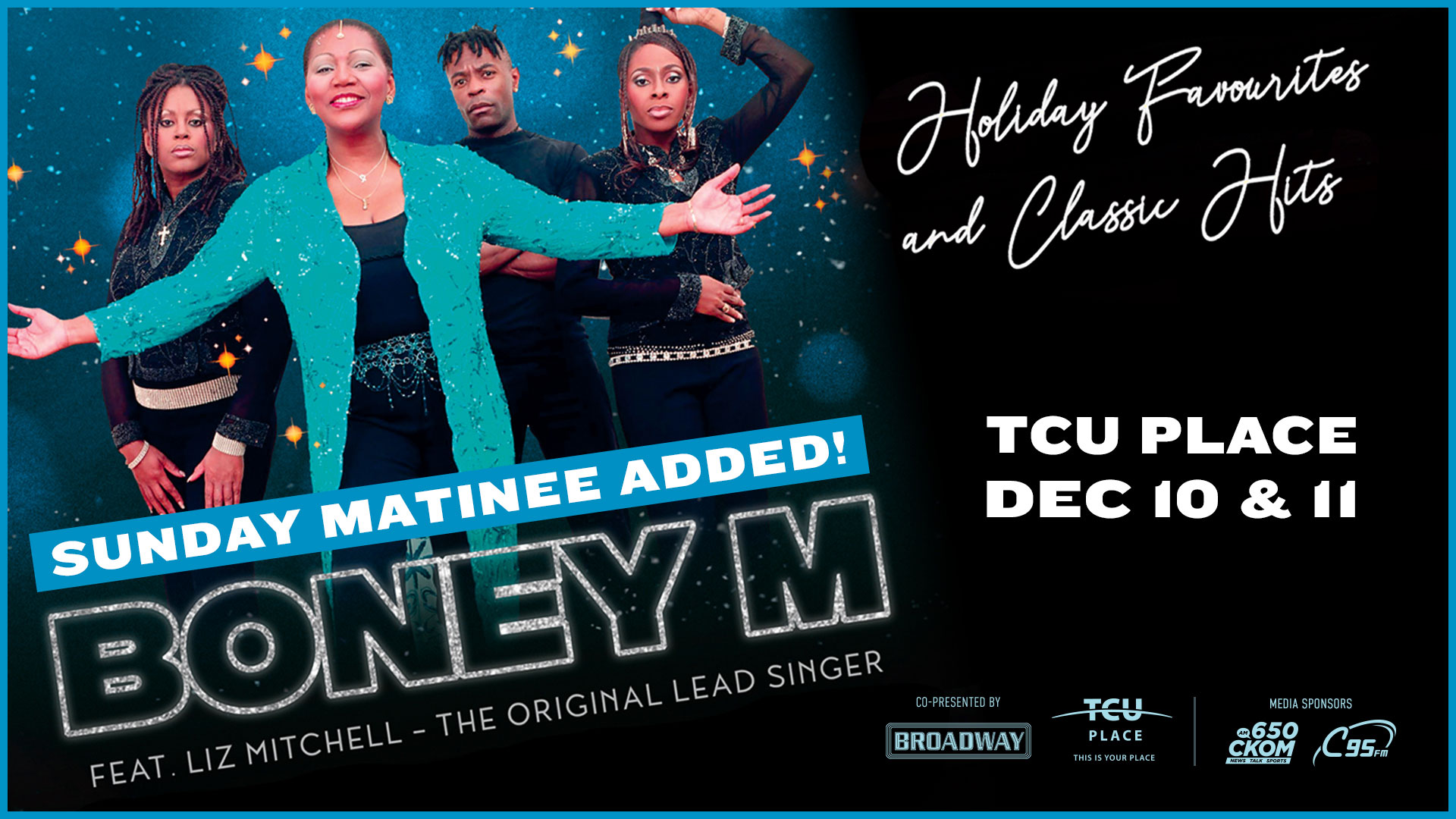 It is crucial for TCU Place to support and give exposure to our super talented local and provincial acts. We are so happy to add ELLEN FROESE with her band to these fun holiday shows!
Sunday Matinee Added!

TCU Place and The Broadway Theatre are honoured to bring BONEY M. Featuring LIZ MITCHELL back to Saskatoon this holiday season!
Boney M. was not only THE disco cult band of the 70's and 80's but remains a living legend of the entire disco era. Originally founded in Germany by writer and producer Frank Farian, Boney M. was one of the disco-oriented pop acts which dominated the charts throughout the late seventies and early eighties with a String of hits well remembered to this day. Farian molded the four-piece band in the dance-pop fashion, featuring the stunning vocals of Liz Mitchell, which proved irresistible to radio, dance floor and partygoers. The original and only lead singer of Boney M. was born in Jamaica and moved to London at the age of eleven.
She always wanted to be a professional singer and with her mother's belief and support she finally got lucky; when working as a secretary an agent called and offered her a leading role in the musical Hair. Liz accepted and moved to Berlin where she stayed for three years. After this she began working towards her original goal to be involved in the music business. Whilst in London doing a recording session Liz was asked to join a new band, Boney M. This role launched her international singing career and the rest is history.
The biography of Boney M's hits is extensive. The group had eight Number One hits in the European charts with the following singles: Daddy Cool, Sunny, Ma Baker, Belfast, Rivers of Babylon, Brown Girl in the Ring, Rasputin, Mary's Boy Child. In addition to the successes of Boney M's singles was the success of three Number One albums in the European market: Take the Heat off Me, Nightflight to Venus, Love for Sale.
Of course, Boney M is also synonymous around the globe with the Christmas season thanks to their incredibly enduring Christmas Album (1981). If you don't start humming along when Mary's Boy Child, Feliz Navidad or Little Drummer Boy start up…..then you are missing out!
We are now in the 21st Century and Boney M's international success during the past thirty-five years has proven that their hits definitely belong to the collection of timeless classics. In 2019, Boney M. featuring Liz Mitchell is still a phenomenal live act drawing huge crowds across Europe and around the world.
TCU Place is very proud to partner with Broadway Theatre to bring BONEY M back to Saskatoon.
Don't miss this extremely special Christmas show!
About Ellen Froese
Folk singer-songwriter Ellen Froese's comforting and husky warble gets crowds a lil' groovy and commands presence on Canadian and international stages. When she sings that she "feels like I'm waiting for you to let loose," a line from the first track on her 2019 album Fightin' Words, listeners wonder how they could've ever kept her waiting.
Clever and slightly self-deprecating, Ellen's songs get into the places of your heart that hold both those quieter melancholic feelings and those moments of warm contentment that make you want to dance shoulder to shoulder with whoever is around.
Growing up on a dairy farm in the heart of Saskatchewan, Ellen's passion for music started at an early age, beginning with a love of listening to the classics in her dad's truck. But it was discovering Neil Young that drove her to a love of songwriting. Hearing his music made her quit piano lessons to instead teach herself guitar.
Since her days with In With The Old, Ellen has performed in various forms, from solo singer-songwriter, to member of a duo, to being in a full band. Her influences have expanded from traditional bluegrass music to include musicians such as Tia Blake, Gordon Lightfoot, and Buffy Sainte-Marie. Now with three solo albums and one forthcoming, Ellen's sound has evolved (though she's never stopped being obsessed with folk music). Her music now adds elements of rock n' roll, classic country ballads, honky-tonk, and 1970s psychedelic pop grooves while still being grounded in the bluegrass tradition of a working-class relatability.
Ellen Froese's fourth album, produced by Sam Corbett (The Sheepdogs), and titled, 'With Each Flower Growing', is due out in November 2022.